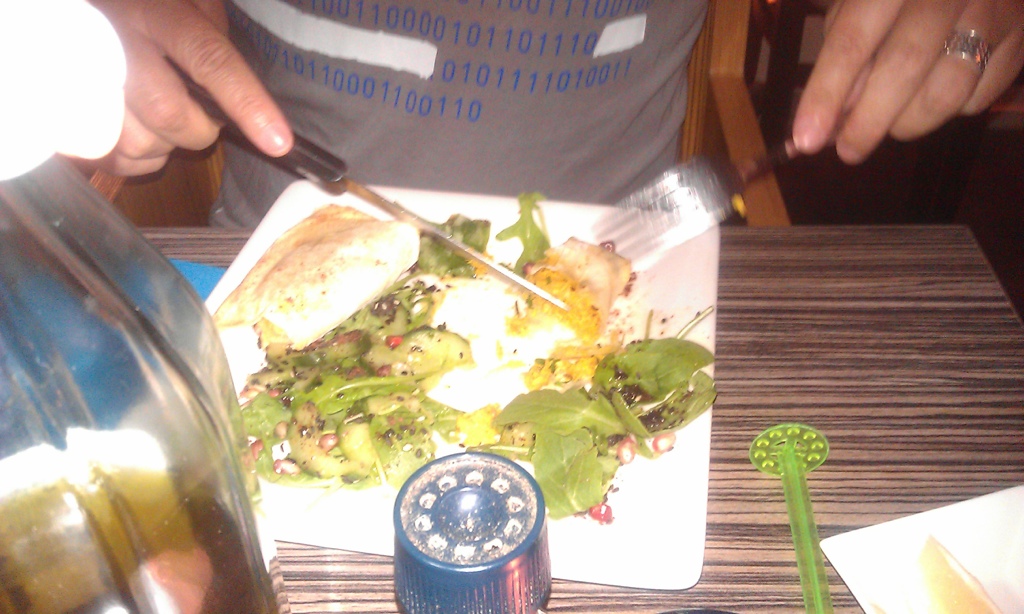 Restaurant Swoel is erg klein, en daarom ook heel gezellig. Op bovenstaande foto zie je me in m'n 'freedom of speech' T-shirt genieten van een vispasteitje, onderdeel van het 3 gangen dagmenu dat ik koos. Dit voorafje is een gerecht op zichzelf. Twee in bladerdeeg gehulde gehakte vispastei, heerlijk mediterraan gekruid, wat een smaak! Mijn eega koos voor de pasteitjes met geitenkaas, zoete uitjes, dadels, amandelen en saffraan. Aangezien we de gerechten verkeerd om geserveerd kregen kan ik vertellen dat ook die heerlijk is. Vooral de zuur zoete smaken in de salade er omheen maken het helemaal af.
Onze tweede gang bestond uit een pastagerecht, helaas of expres niet geheel al dente, en voor mij een Tajine (stoofpotje) van lam met kaneel en rozijnen, volkoren cous cous en seizoensgroenten, in dit jaargetijde een bijpassende zomerse salade. Beide gerechten hebben volgens de vriendelijke bediening van Swoel hun oorsprong in Turkije, en vielen beiden zeer in de smaak door een juist gebruik van garnituur. We bestelden hier ons tweede biertje. Alfa en Hoegaarden Wit zijn merken die bij Swoel worden geserveerd.
De keuken van Swoel lijkt klein omdat chefkok Peter van der Wal achter de bar druk aan het koken is voor alle gasten. Voor de gasten die op de lange bank aan de lange kant van de zaak zitten biedt dit een fraai schouwspel. De gasten aan de andere kant moeten het doen met te harde stoelen en elke gast zie je dan ook grijpen naar de kussentjes op de bank om het soms lange wachten wat te veraangenamen. Tip: zorg dat u zit met kussentjes in de rug, voordat u hier te laat achter komt.
We rondden af met werkelijk fenomenale desserts: een Oosterse hangop met abrikozen en amandelen, een zeer lichtfijne smaak. Het dagdessert was een Italiaanse eucalypta ijs; roomboterzacht, licht gezoet en een frisse limoensmaak.
Ons eindoordeel: geweldige gerechten, volgende keer zorgen voor betere stoel dan zeker iets om terug te komen!