Op onze laatste vakantie in Duitsland moesten we natuurlijk ook een spelletje kopen. Duitsland is het laatste decennium zo'n beetje de bakermat als het gaat om bordspellen, dus als je daar toch op vakantie bent moet je natuurlijk wel terug komen met een paar gekochte spelletjes. Een van de spellen die we in Duitsland kochten is Kahuna.
Kahuna is een strategie spel voor twee spelers en ik ben er eindelijk in geslaagd om een potje van m'n vrouw te winnen, zie hier: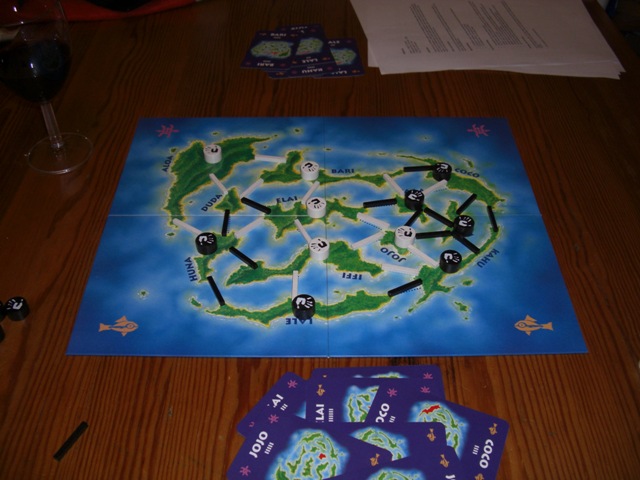 Ja u ziet het goed: ik speelde met zwart en ik won met 6 tegen 5 :applaus:
Het spel Kahuna gaat erom dat je als witte of zwarte magier (zie betekenis van Kahuna op wikipedia) de controle krijgt over de meeste van 11 Atol eilandjes.
Hoe krijg je als magier die controle? Als je de meeste bruggen naar een eiland gebouwd hebt, dan heb je de controle en mag je een steen van je eigen kleur op het eiland zetten. Tegelijk moet je tegenstander in dat geval alle bruggen naar dat eiland afbreken. En dat heeft natuurlijk meteen invloed op de naastgelegen eilanden.
We vinden Kahuna een zeer strategisch spel maar je moet ook een beetje geluk hebben bij het trekken of kiezen van kaarten. Op elke kaart staat een eiland afgebeeld en geeft je het recht om aan dat eiland een brug te bouwen.
Natuurlijk ga ik als ontwikkelaar, na een paar spelletjes gespeeld te hebben, mezelf meteen afvragen of het mogelijk zou zijn om een sterke computerspeler te maken voor dit spel? Een computerspeler moet dan wel een goede tegenstander zijn, want bij Kahuna gaat het er niet om dat je willekeurig bruggetjes bouwt naar aanleiding van de kaartjes die je toevallig trekt. Nee er komt veel meer bij kijken. Je moet echt ook heel strategisch je bruggetjes bouwen om te voorkomen dat je tegenstander je net bij een bepaald eilandje voor is.
Zou een brute-force techniek, zoals toegepast bij schaakcomputers of zoals ik geprogrammeerd heb bij WinAttaxx
en het computerspel Doorbraak hier werken? We zullen zien… later meer…
Addition 4 July 2009: Seems that in the university of Kiel the game of Kahuna was part of a softwarepractice, including creating a playable computerversion.
Meer over het spel Kahuna is te vinden op de sites van:
Kahuna op boardgamegeek (Engels)
en bij de site van Kahunabeschrijving op Spellengek Het schijnt zelfs mogelijk zijn om via een website tegen een andere speler (niet zijnde een computerspeler) een potje Kahuna te spelen.